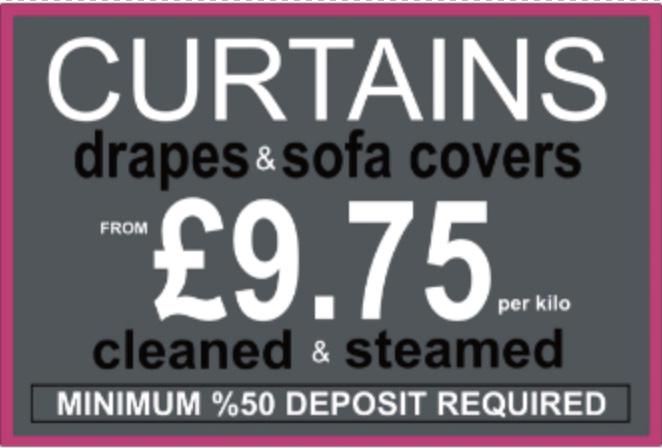 We recommend that you clean your curtains and soft furnishings once a year, this helps prolong life span ensuring they look great for many years to come. Most importantly destroying dust mites and attacks on the fabric from condensation which often cause fabric rot.
All curtains and soft furnishings are dry cleaned on the premises using our specially modified low temperature low mechanical action program reducing the risk of shrinkage to a bare minimum.
They are then gently steamed & relaxed ensuring the ultimate finish, your curtains are returned to you on super strength drapery hangers. Please remember that any folds will drop out within a few days of re-hanging.
We can process any size or any type of curtain or sofa cover but we always recommend that items which form part of a set are always processed together.
Need your curtains cleaned & returned on the same day ?
Just give us a call and we will book in your curtains on a mutually convenient date ensuring a same day turn-around. Call: 020 8777 0223
Rugs
We can clean and care for any size and type of rug. We use one of the top rug contactors in the UK guaranteeing your rugs are returned looking & feeling as good as new..
This is normally a 2 week service but may take up to 3 weeks at busy periods.